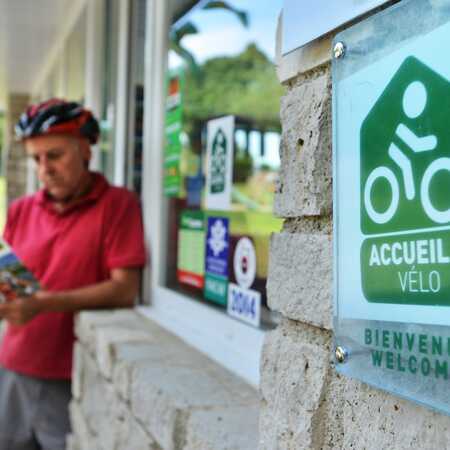 Accueil Vélo à Illiers-Combray © J. Damase - Centre Val de Loire
south
Accueil Vélo (Cyclists Welcome)
With Accueil Vélo, be well received on the Veloscenic !
The national logo Accueil Vélo (Cyclists Welcome) has been developed to improve the quality of services for cyclists.
All the Accueil Vélo establishments have met requirements to ensure they are cyclists-friendly.
This certification covers:
 Accomodations (hotels, guest houses, campsites...)

 Visitor Centres

 Cycle hire and repair

Tourist Information Centres
These services can be found wherever you see the Accueil Vélo logo.
On this website the Accueil Vélo services are to be seen on the interactive maps of the sections and stages with green pictograms.