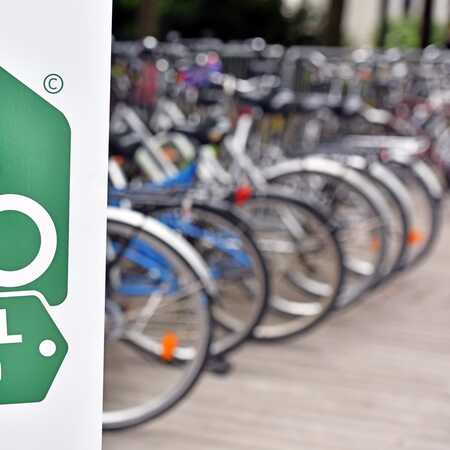 Loueur un vélo sur La Véloscénie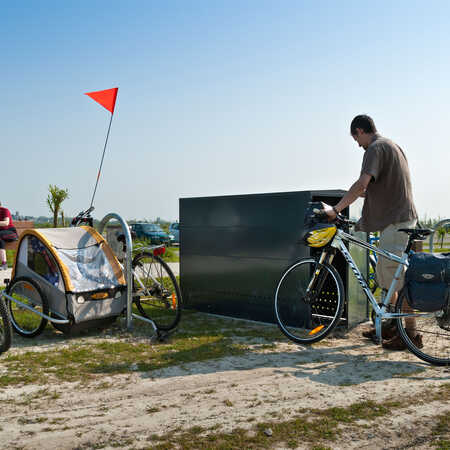 Racks à vélo © Joël Damase
south
Where can I hire or repair a bike?
A bike in good condition and well equipped
Renting a bike is a good way to kit out a group or to ensure that what you are riding is of good quality and properly equipped.
Some advice on hiring the equipment best suited to you
Today, professional cycle hire centres can be found in most towns and along designated cycle routes.
Rent a bike suitable for the route.
Generally a mixed terrain bicycle, such as a hybrid bike.
Consider hiring panniers at the same time as the bicycle.
These are very practical - even for a day trip - and useful for carrying your clothes and a picnic.
Take care of the equipment you rent.
That way, you'll get all your deposit back.
CAUTION
Self-service bicycles (such as Vélib') are not suitable for long tours!
One-way bike rental service on Veloscenic
Note that a one-way bike rental service is offered by several hire shops, all along the Veloscenic route.
Loc Vélo is one of the largest bike rental company based in Normandy. They deliver bikes at any point of the itinerary and will take it back in Mont Saint-Michel. Bikes will be delivered (from two bikes) in your hotel or train station. Very useful if you come by train or by plane from a long way! They rent high quality bikes: Specialized, Moustache or Cannondale e-bikes and Cannondale or Lapierre tandems, as well as many accessories and equipment available: helmets, panniers, baskets, GPS garmin, Gopro cameras, bike trailers, etc. 
To get prices and more information, please contact them at locvelo@hotmail.fr or +33 (0)6 46 34 37 21.
Vélo Emeraude also hire one-way bike. They deliver bikes in Paris, Rambouillet, Chartres, Alençon and Mont-Saint-Michel. The delivery can be on another stage on request.
They rent mostly VSF Fahrrad Manufacture and Kalkhoff bikes.
You can give back your bike in Mont Saint-Michel or in Pontorson, the nearest train station (10km from the Mont).
Contact: +33 (0)6 58 02 24 61 or email.
La Boîte à vélos deliver bikes and material for touring in different towns along the route: Paris, Versailles, Maintenon, Chartres, Alençon, Bagnoles-de-l'Orne and Pontorson.
To get the best price, you must make a reservation 10 days before your departure. You will receive a quote the next day. A large choice of bikes is offered: hybrid bikes, children bikes, electric bikes, tandem. Contact and prices at +33 (0)2 43 44 18 39 or +33 (0)6 03 06 72 62 or email.
Fontainebleau Bike Rental offers delivery of bikes in each town between Paris, Chartres and Nogent-le-Rotrou. They pick up your bike at Mont Saint-Michel, or anyway along the route and even at a more remote point! If you come back to Paris by train, they can pick up your bike at Paris Montparnasse train station (or another station).
For 2 bikes hired (with all equipment) delivered at Paris and picked up at the Mont Saint-Michel, or reverse, it is about €400 for 8 or 10 days. Of course, bike hire for solo cyclist is also accepted but will be more expensive.
Bikes available for the Veloscenic route are Trekking ou Touring bikes, as well as bikes for children and trailes. Equipment such as Ortlieb panniers and Veloscenic guidebooks in English are offered with the bike rental service.    
Contact : +33 (0)6 22 24 43 53 / velochannel@gmail.com