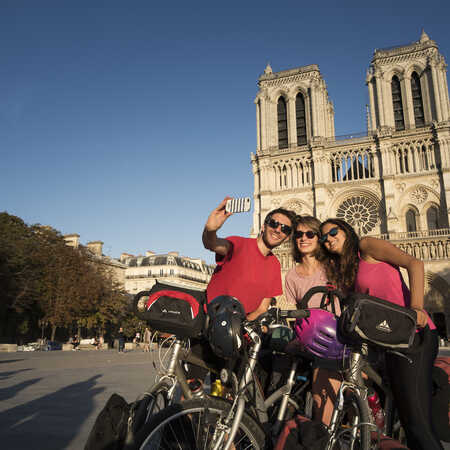 Cyclistes sur le parvis de Notre Dame à Paris © La Véloscénie - D. Darrault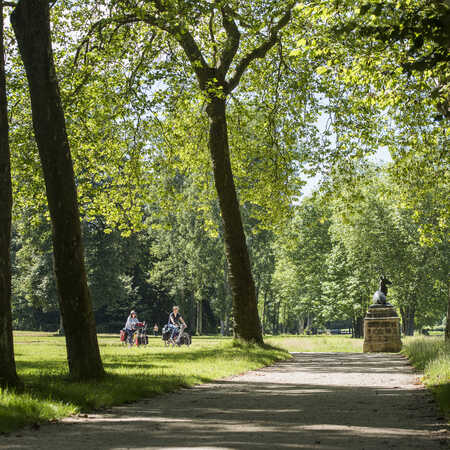 Balade à vélo sous les arbres dans le domaine de Rambouillet © La Véloscénie - D. Darrault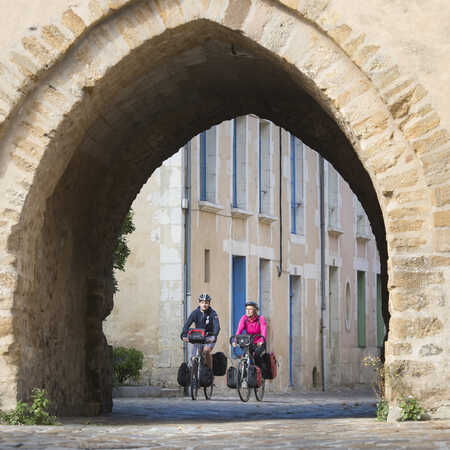 Mortagne au Perche à vélo - La Véloscénie © La Véloscénie - D. Darrault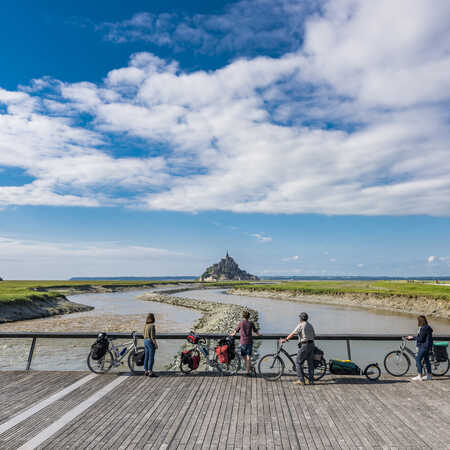 Vue sur le Mont St-Michel par la Véloscénie © La Véloscénie - D. Darrault
south
The Veloscenic Cycle route
2 emblematic sites linked by a cycle route
Paris Le Mont Saint-Michel by bike, a tempting experience, isn't it? Discover here this cycling itinerary which links two emblematic places of France and imagine, on your little queen, arriving in front of the impressive Mont Saint-Michel and its bay.
A touristic, historical, cultural and spiritual itinerary
The Veloscenic cycle route offers you the chance to feature in your own 'cycle route movie'! So come and play the starring role on an over 450km, extraordinary adventure, whisking you from Notre-Dame de Paris to the Mont St-Michel in Normandy!

The Veloscenic is the latest major French cycle route to be set up. The storyline you create will be unique as you cycle along its over 450km of well-signposted cycle tracks, greenways and country roads, transporting you from Paris to the Mont St-Michel, passing by the Eiffel Tower, Chartres Cathedral, or even the Château de Versailles.

These famed historic, cultural and spiritual spots await you, along with the Eure Valley, the rustic Perche and Bocage Normand,  the stunning Bay of the Mont St-Michel, plus many hidden treasures. Follow in the tracks of medieval builders, famous novelists and Impressionist painters. Be inspired by nature's works too as you travel along.
Accessible to all*, the route crosses 4 French regions, 8 départements (or counties) and 3 regional natural parks. In short, the itinerary offers variety aplenty.
One might say that the Veloscenic has created a right royal route for family and friends to revel in, be it for a sporting challenge, an ecologically-minded tour or an indulgent break.
Enjoy all the great natural and cultural shows along the way!

► See and download the map (PDF)
*At present, greenways link Paris to Massy, Condé-sur-Huisne to Alençon, and Domfront to the Bay of the Mont St-Michel, plus there's a greenway around Chartres.  
Did you like this?
You may also be interested in this...