Continue along the greenway hugging the Huisne River and cross through the heart of the Parc Naturel Régional du Perche. In many places, perhaps half-hidden by trees, you'll spot a typical old manor or restored mill. All told, this is one of the most enchanting stages along La Véloscénie.
Waytypes of the stage
By road: 5,19 km
Cycle path: 18,10 km
Provisional itinerary: 5,19 km
Surface of the stage
Lisse: 5,19 km
Rugueux: 18,10 km
Itinerary
You're cycling along a greenway for the whole of this stage.                                                                                                        
Links
There's a steep link, 1.3km in length, to get into Mortagne-au-Perche.
Tourism Offices
Rémalard : +33 2 33 73 71 94
Mortagne-au-Perche : +33 2 33 83 34 37
Not to be missed
Mortagne-au-Perche : weighty built heritage
La Chapelle-Montligeon : a basilica in a greenery area, reachable via secondary roads (D 213 and D 5) when you leave the greenway.
Did you like this?
You may also be interested in this...
They did it!
favorite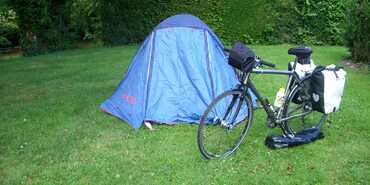 6 days of cycling return trip from Alençon to Le Mont-Saint-Michel!