18,52 km cycling route from Thiron-Gardais to Nogent-le-Rotrou
La Véloscénie continues to follow small country roads across the Perche's hills; these do require some effort to climb. As a reward, enjoy the splendid views from their heights. Finally, you pass the Château St-Jean arriving at Nogent-le-Rotrou.
Itinerary
Crossing Thiron-Gardais, be aware of the slope. Otherwise, this stage is marked by varied little country roads. You enter Nogent-le-Rotrou via rather unappealing housing estates before reaching the centre and the station. 
Railway station
Nogent-le-Rotrou station : many Express Regional Transport from and to Chartres
Tourism Offices
Thiron-Gardais : +33 2 37 49 49 49
Nogent-le-Rotrou : +33 2 37 29 68 86
Not to be missed
Nogent-le-Rotrou : Museum – Château St-Jean – Le Paty quarter of town – La Maison du Bailly.
Accommodation on the stage
Did you like this?
You may also be interested in this...
They did it!
favorite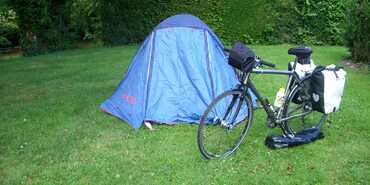 6 days of cycling return trip from Alençon to Le Mont-Saint-Michel!