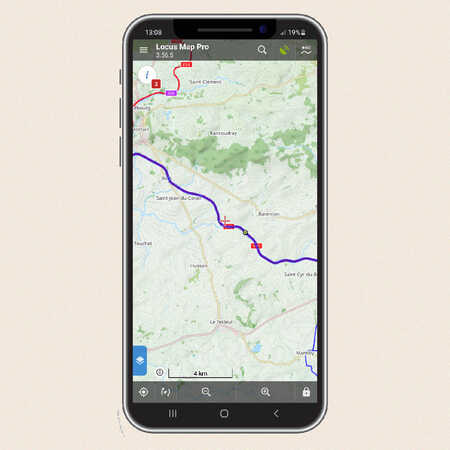 download the gps track of the veloscenic cycle route
south
Download the GPS tracks
Cycle along with peace of mind, following the cycle route tracks on your smartphone or GPS device.
Download a GPS mobile app on your app store
Here is a list of possible apps depending on whether you're using an Apple or Androïd device. These apps are free but some offer additional options for which you have to pay. 
To make sure you can access the GPS tracks even without an internet connection, we advise that you also download the background maps from your app. 
For English-speakers and those happy to experiment a bit with the technology, the website OpenAndromaps.org offers a wide range of background maps organized by geographical zones.
Download the cycle route tracks and import them via your app
To import the tracks onto your app, open the download folder on your smartphone and click on the gpx folder choosing "open with" your GPS app.
⚠️ With certain Garmin brand  GPS devices, we have noticed that only a fraction of the cycle route may be imported. You can remedy the issue by using a GPS track editor (for example GPX.studio) to merge the different sections into one single track.
🔍 If you wish to download just a few stages of the Veloscenic cycle route, it's possible to do so by clicking on the button "Download the .gpx tracks" on the pages for the designated stages.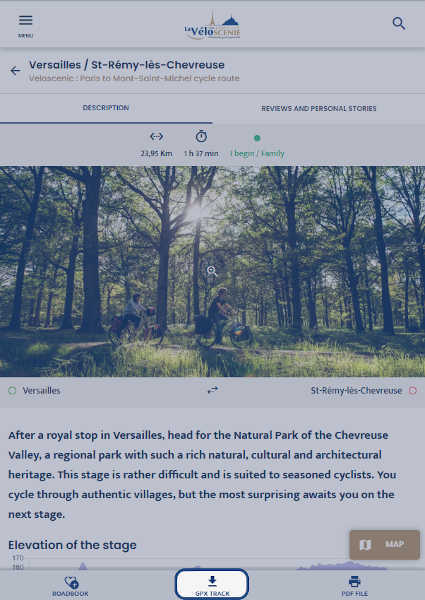 Create your own GPS tracks making use of the route calculator
The route calculator enables you to enter personalized starting points and end points both on the Veloscenic cycle route and beyond. It's particularly practical for finding a route towards your accommodation or to or from a train station. This service is much more reliable than tracks provided by Google Maps.
The calculator offers two types of route:
•    the ''fastest'' route option; 
•    the more touristy, safer option prioritizing  cycle routes, cycle paths and roads used by little traffic. 
Be aware that the downloaded tracks are strictly for your personal use, excluding any commercial use. For any other use, an authorization shall be requested in writing to the website' editor. (See General Conditions of Use ).
Did you like this?
You may also be interested in this...