Secure bike parking areas and bike conciergeries
Leave your bike and luggage in a secure place while enjoying visiting tourist sites!
Along the Veloscenic cycle route, there are many historic and natural sites to visit that you will want to make the most of during your cycling trip. One issue is how to find a secure place in which to leave your bike while exploring these sites. 🤔
Here, we offer a little tour of some of the solutions on offer, in particular signalling secure parking areas and bike conciergeries available in summer! 
Discover new services at the Mont Saint-Michel and in Chartres.
Secure options for bikes close to tourist sites
All the towns crossed by the Veloscenic cycle route and the tourist sites open to visitors have been encouraged to install secure bike boxes, or lockers, so that you have a secure place in which to leave your mechanical travelling companion!
Some of the first such bike lockers were put in place in 2021 and 2022 to make stops and visits easier as you travel along. 
In Mortain and Bion, secure bike boxes are available for the safe storage of your bike and your luggage. Here, you do need to bring your own padlock or anti-theft device to be able to lock the door securely. 
At Mortain-Bocage, it is possible to leave your bike on Place du Château and then head off to explore the renowned Mortain waterfalls on foot.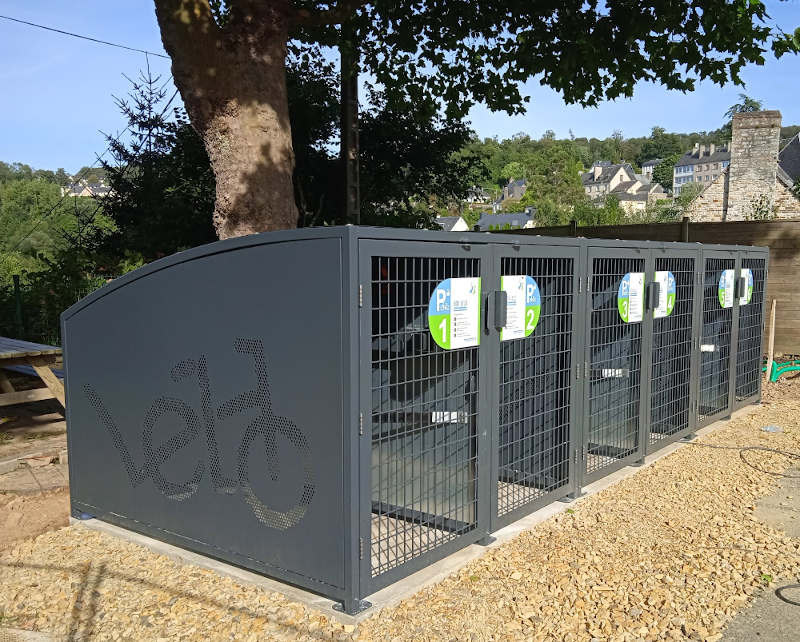 Tourist sites awarded Accueil Vélo accreditation will always have space available for parking your bike. However, some of these spaces may not be secured. At others, it is possible to ask to leave your luggage at the visitor welcome area.
At the Château des Comtes du Perche in Nogent-le-Rotrou, cyclists are warmly welcomed and invited to enter the courtyard with their bikes to park them in a sheltered area.