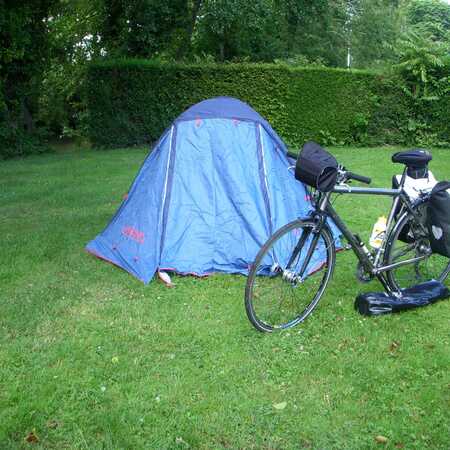 Camping sur La Véloscénie © Alain Laurent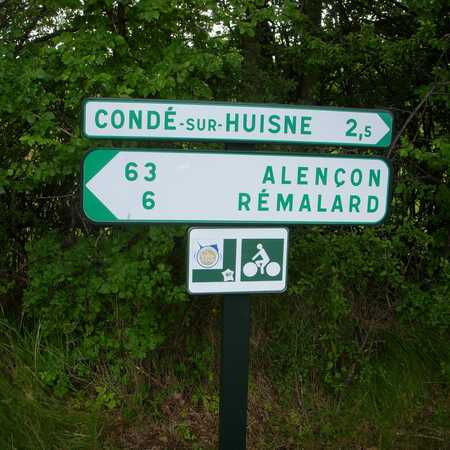 Panneau de signalisation sur la Véloscénie © Alain Laurent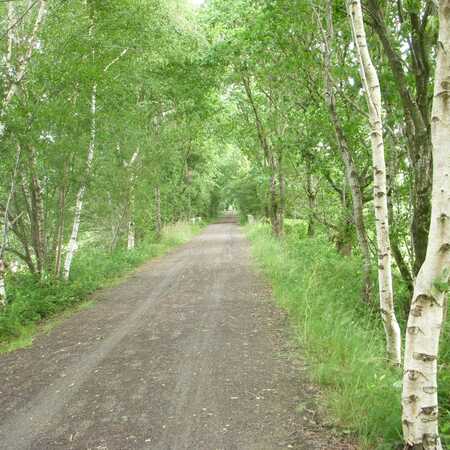 © Alain Laurent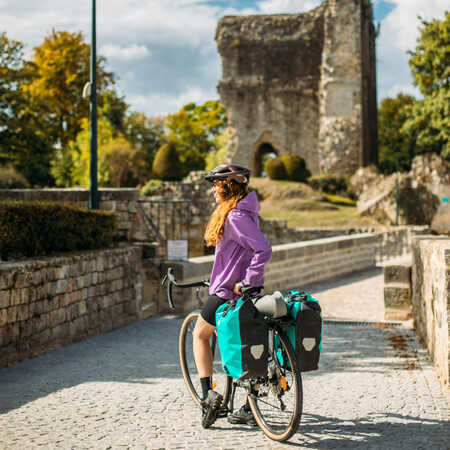 © Alain Laurent
south
A nice 6 days break" on Veloscenic cycle route!
6 days of cycling return trip from Alençon to Le Mont-Saint-Michel!
Day 1: from Cercueil (Orne) to Domfront
Distance: 40 miles
We went to Carrouges in front of the splendid pink brick castle surrounded by water. We continued to the beautiful spa town of Bagnoles de l'Orne, crossed a green forest and climbed the slopes of the town of Domfront. The medieval city center is full of charm.
We stay at the very green municipal campsite "Champ Passais".
Day 2: from Domfront to Saint-Hilaire-du-Harcouët
Distance: 28,5 miles
After 100 meters, puncture! Back to the campsite to change the inner tube confortably!
Once the bike is restored, we follow the Veloscenic cycle route by an old railway entirely reserved for cyclists, walkers and horseriders.
We leave the greenway to stay at the municipal campsite La Sélune in Saint-Hilaire-du-Harcouët.
Day 3: from Saint-Hilaire-du-Harcouët to Pontaubault
Distance: 15,5 miles
After a long time waiting weakening rain, we leave the campsite to join the greenway. We leave Ducey without stopping.
At the end of the greenway, the rain has stopped and we come at Pontaubault. We visit Pontaubault and the surrounding on foot.
Day 4: from Pontaubault to Mont-Saint-Michel
Distance: 50 miles
We got up at 6 o'clock. Today, just the business for the day to prepare and put in a simple bag. On the programm, the last miles of the Veloscenic cycle route! We see very quickly the familiar profile of the Mount! There are very few cars at this early hour (7:00 am). It is only at nightfall that we return to the campsite. What an unforgettable day!
Day 5: from Pontaubault to Domfront
Distance: 43,5 miles
We are starting the return. We decided to take the reverse route of Veloscenic. From time to time, we leave the Veloscenic cycle route to ride on the small roads that change of the greenway.
Day 6: from Domfront to Cercueil
Distance: 40 miles
This is the last stage. The beautiful 6 days break is coming to an end. We had a good time in this welcoming lands. We met beautiful people, enjoyed good food, saw various architectures, traveled through beautiful landscapes and had good times together.