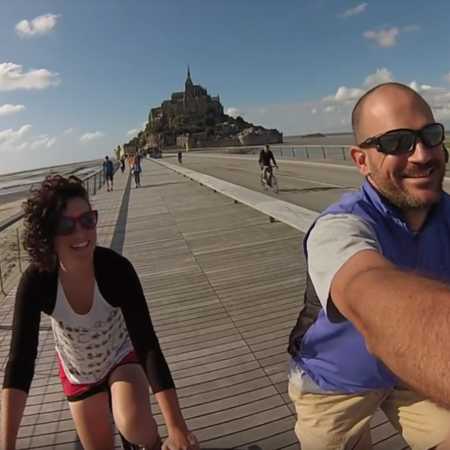 Pamela et Raffaele arrivent au Mont-Saint-Michel © Pamela et Raffaele
south
The Veloscenic on folding bikes
Deux italiens sur La Véloscénie, et plus !
Pamela and Raffaele rode the Veloscenic with folding bikes. They share their story and a very nice video with us!
"We're Pamela and Raffaele from Italy, two cycling enthusiasts and folding bikes lovers.
Choosing this route has been very easy as we immediately fell in love with it:
We splitted the course from Paris to Mont Saint Michel in 9 stages with some minor modification from the recommended one.
We added 3 further steps to visit Saint Malo, Dinan and Rennes.
The planning has been easy thanks to all information available on this website and on the Road Book "La Véloscénie, l'itinéraire grand spectacle" suggested in the guides section.
We arrived by train from Italy and after 3 days discovering Paris, we set off, eager like two adventurers to discover new places.The route has been charming and confirmed immediately our first impression. We've been travelling from wonderful cities to flowery villages through a peaceful countryside.
Since our first experience we realized that cycling is for us the most pleasant way to travel.
Green ways and cycle paths were perfect to enjoy the beauty of the landscapes, but we also appreciated to ride on normal roads. We always felt safe thanks to the attention to cyclists showed by the drivers.
This holiday has been truly amazing and one of the best we ever had. We'll surely treasure it in our memories and we think that next year we'll be coming back to this wonderful country for another route.
The French we met were really kind and helpful: a couple of times we've been even welcome in their houses to get some fresh water. Also the weather has been nearly perfect with only one afternoon of rain and a couple of light showers in 18 days and we've been frequently gifted with amazing skies.
In short, we loved this tour with his roads, landscapes, nature and peace. As you can see from our video we enjoyed it a lot and we hope other people will be caught by our happiness and decide to try it."