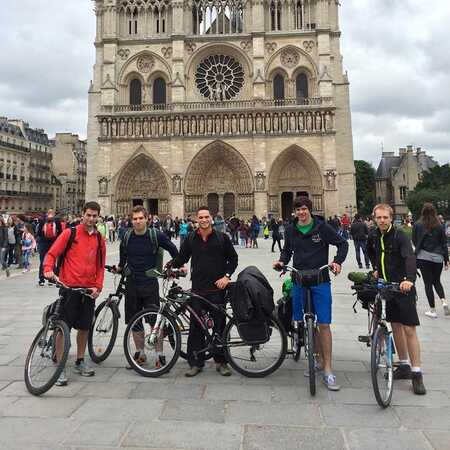 Départ sur le parvis de la cathédrale Notre-Dame-de-Paris © Arthur, Beubeu, Gigi, Paulo et Théo
south
A bicycle challenge between friends
They did it in 4 days only !
From Paris to Mont-Saint-Michel, discover the testimonial of this group of friends who rode the Veloscenic cycle route!
Why they cycled the Veloscenic
We loved riding the ViaRhona between Lyon and Arles last year. We think that bike trips are a very good combination of sports holidays and discovery of new territories. We wanted to restart that!
The departure from Paris makes the route very accessible for us. The areas crossed are very beautiful and the arrival at the Mont-Saint-Michel is spectacular!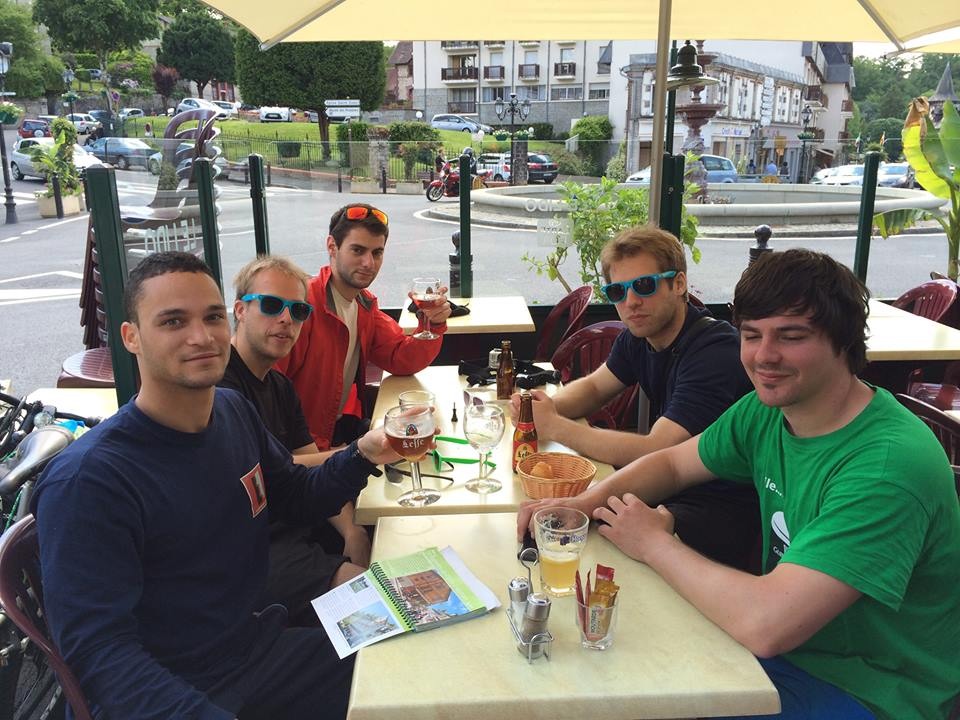 What sections they ride
4 days:
117 km - Paris > Chartres
90 km - Chartres > Perche
105 km - Perche > The bocage Normand area
135 km - The bocage Normand area > Le Mont-Saint-Michel
We choose our city-stages according to accommodation we had found online.
Description of a typical day:
Out of bed at 7 am to avoid heat. We prefer slow burning carbohydrates such as bread and wholemeal bread. We try to avoid fatty food without energy input like Viennoiseries (even if we did not really respect this rule during the biketrip!!).
8 am: ok, we were a little late... 8:45 am: we jump over bike. The first hour is generally the most complicated.
At noon: we always stopped in bakeries in small villages to eat.
During our breaks, we ate cereal bars, dried fruits, compote drink or sometimes just wholemeal bread.
6 pm: we find a place to do our shopping (mostly pasta for the evening and bread for the morning. Ok... we bought beers as well...).
7 pm: we reach our accommodation. After nearly 10 hours on a bike, the SHOWER is the first great moment where you feel relived. The second is of course the aperitif!
We are going to sleep. Curiously no one has trouble getting to sleep, even at 11 pm.
Our equipment:
We rented all of our equipment. We chose VTCs. We made the choice to avoid backpacks. We rented paniers that proved to be very useful.
We downloaded the GPS tracks in .gpx format available on the Veloscenic website, very handy! A useful detail: the smartphone holder for handlebars!

We left the Mont Saint Michel, taking a TER from Pontorson to Rennes, then by TGV to Paris.